Precision and Quality to last a lifetime!
Super-thick .100 gauge All-Welded Lifetime Hull
Up to 73% thicker than most other aluminum boats, so you won't have to worry about your Legend being strong enough. Just in case you are, we back it up by an exclusive Leakproof for Life Warranty.
Solid Locking Extrusions
Each thick hull piece is locked into a solid center and bow extrusion for unmatched strength and durability. The center extrusion is over one inch thick providing an extrememly solid 1,054 gauge impact zone. This super thick center keel offers over 5 times the protection of double plated hulls.
2-Piece Hull with No Side Seams
Eliminates a common weak area on other welded boats - the sides. A leaky side seam is just not a possibility with Legend Gen X.
Fuel Efficient Hull Design
With the combination of the sharply angled bow, deep V hull design and reversed angled chines, you can now get on the water every weekend, go further and stay on the water longer.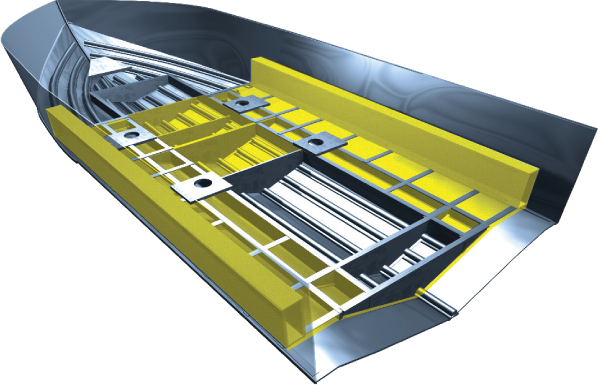 Injected Level Floatation
Not only will every Legend float even when filled with water, the injected foam creates a solid sub-floor bond that strengthens the boat and provides a silky smooth and quiet ride.
Thick Lifetime Decking
A thicker floor means a stronger boat. With 7 layers, each individually treated, we can offer a Lifetime Warranty against rotting or warping and delaminating.
Exclusive Comfort Ride Deep-V Hull
A dry, smooth and comfortable ride each and every time in all conditions is provided by our sharply angled bow, deep V and reverse chines.
Reverse Angled Chines
The bottom side edges of every Gen X boat are angled downwards to create lift in the back for faster planing and increased stability while keeping the boat interior dry.
Interlocking Bow Ribs
The front support ribs overlap the torsion system to eliminate a common weak point on most other aluminum boats.